Project overview
Location Matipo Street, Riccarton, Christchurch
Date of completion May 2021
This project included working with KiwiRail Track and signals team to complete the upgrade of the existing Matipo Street Rail Crossing. The crossing was due for repair and needed modifying to tie in with the upgrades completed in the Middleton Switch Yard.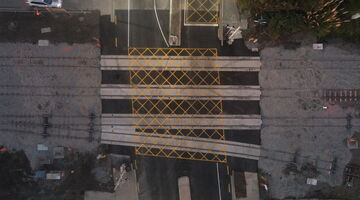 Overview:
KiwiRail have an ongoing programme to complete high-impact, short-duration works during programmed block of lines, which involves the closure of key rail links across the country. These are significant as they have a significant impact on KiwiRail's freight business. The estimated impact to its bottom line for a 60-hour block of line is estimated to be half a million dollars. The line block also takes over nine months to organise.
KiwiRail approached Isaac Construction after the success of our Synlait Milk Turnout project in late 2021 to give us the opportunity to deliver the Matipo Street Rail Crossing renewal.
The scope of works involved in the initial project design would have been very difficult to deliver within the set time frame of 60 hours. Some of the challenges we had to navigate were managing the risks around high-capacity service utilities in the area, along with unknown high-capacity KiwiRail signals for its Middleton switch yard. Other challenges were managing impacts to local traffic (estimated 7,000 vehicle movements a day), and implementation of a rail crossing design rarely used in the South Island to date, with the designer located in Germany. We used an ECI approach to effectively de-risk these issues.
Our objective for delivery was to live the project values and produce something we can all be proud of and tell our family and friends about a job well done. The delivery phase ran like clockwork for 24 hours a day for three days. This was largely due to the in-depth planning and design changes completed by the project team during the design and planning phase.
The works involved service investigation and as-built, pre-casting of eight precast units, removal of existing rail network, major earthworks to remove 430m3 of material, placement of three separate layers of formation material, installation of drainage lines and structures, transportation and placement of four precast units to site, construction of the road crossing, formation for rail sets each side of the crossing, removing and placing a rail turnout to a new design location and the placement of 170 tonnes of asphalt to complete the rail crossing on Matipo Street.
"Time" was the obvious challenge, so it was essential that what we implemented during the planning and delivery of this project were as per the project values of (1) Safety, (2) Quality, (3) Meeting our targets, and (4) Impact to stakeholders.
We used a drone and time-lapse photography to complete project monitoring showcasing the delivery control points of the short-duration, high-impact programme, which can be viewed here: https://vimeo.com/717223047/3a39187eaa