Project overview
Location Peninsula and Portobello Road
The Peninsula Connection was a road widening, pedestrian, cyclist, and safety improvements project undertaken across 26km of the Dunedin Peninsula between Portsmouth Drive and the Royal Albatross Centre Dunedin Harbour Mouth.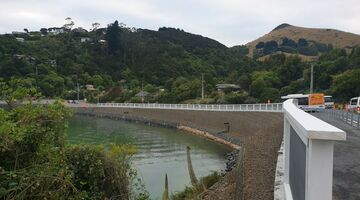 Overview

The project was designed and constructed across a number of stages. A local contractor completed Separable Portion 6 at Turnbulls Bay and Separable Portion 8 up to the extent of Separable Portion 7, which was left out due to the complexity in scope and existing ground conditions within this section of the Peninsula Road.
Isaac Construction was appointed as Head Contractor for Separable Portion 7 scope of work which included road widening, shared path, retaining wall and seawall construction as well as associated stormwater and road safety works.
For the Separable Portion 7 contract we had to liaison with residents, property owners, and road users to mitigate the impact of the works as far as practicable. We managed the health and safety of the worksite, including temporary traffic management. The construction of mechanically stabilised earth retaining walls as well as the construction of a new rock sea wall including compacted bulk fill. Isaac had to liaise with utility companies with regards to the construction of service trenches to enable relocation of existing services. Isaac Construction widened the road surfaces to include the provision of a shared cycle/ pedestrian space and modification of service covers, valves and hydrants to accommodate raised pavement.
We were not only responsible for pavement construction and surfacing, but the reconstruction of existing driveways and side streets. We finished the works off with line marking and signage as well as street furniture, roadside barriers and landscaping, planting, and all related safety improvements.

Challenges
Site Conditions
Not only did we work a narrow, confined space but also had to work around the tidal and harsh coastal environment and with 42 wet days during summer, made construction hard as the ground conditions were poor.
As the project progressed into the more complex areas of the site, the active slip, there was a high level of collaboration between designer and contractor to create practical solutions to ensure the success of the project. The establishment and maintenance of positive relationships allowed us to work collaboratively with various consultants and the council's engineers, planners, and designers. Specifications were openly discussed, and solutions to on-site issues provided by both parties through regular site meetings proved an efficient and practical way to progress the project. Stockpile management also proved to be difficult due to the road works on Portobello road it was a 2 hour round trip to the quarry. The stockpile area was fully utilised to ensure truck and trailers were carting full both ways.
Stakeholder Communication
We were lucky to prove ourselves early on with our level of communication and proactiveness with local residents and the speed at which we undertook the project. Our attentiveness with managing traffic flows across a difficult section of road with several side streets and residential driveways also went a long way to ensuring stakeholder requirements were being managed and met where practical over the course of the project.
Working in a New City
Working away from home and in a new city posed a number of challenges for both our crews who were working long days and weeks due to the short programme, as well as the management team who were working both remotely from Isaac's Christchurch office and from the site office over the course of each week on the project. Adding to the complexity was the location of the site from the city, along the narrow and winding peninsula road, being a 40-minute trip from the city to the site for trucking and subcontractors.
Awards
CCNZ National Award 2021 Winner - Category 1 – Project of the Year
CCNZ Canterbury / Westland Awards 2020 Finalist
Isaac Excellence Awards 2020 Winner of the Project of the Year Award

Dunedin Resident Testimonials
Raewyn Harris
Few hold ups you were amazing and it looks great when coming through the Glen at Broad Bay. Hope you get more work on this road.
John MacAskill Well done fellas it looks great and is good to travel through.
Jamie Ramsay
You guy's did a great job of completing the Great Wall of Broad Bay.
Lois Paterson
After so many years of having the slip right by our home we are absolutely thrilled at the job Dan and his team have done and the way they looked after us locals at the same time. It's amazing and so great to have it finished before this lockdown as it is being used by dozens of locals out on their daily walks. Hope you get some more work down here, you deserve it.
Glenda Smith
Wonderful work getting through it so fast well done guys.
George O'Brien
Very impressive work.